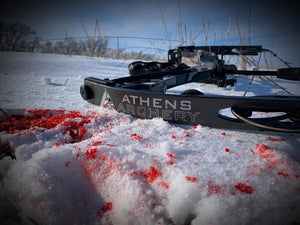 Bone Cold TV Inks Partnership with GAS Bowstrings
Bone Cold TV, a Western New York based destination hunting television show comprised of Brandon Scott, Chad Faulkner and Shaun Thomson, announces its partnership with GAS Bowstrings of Stanton, Kentucky.
"After learning of our exciting new partner, Athens Archery, and their union with the talented group of guys from Bone Cold TV, it truly was a no-brainer to get on board with the positive and forward momentum," said Eric Griggs, CEO of GAS Bowstrings. "GAS Bowstrings recently celebrated its two year anniversary, and as we look to further expand our business across the world, partnerships such as ours with Bone Cold TV will only help to highlight what our strings and cables are able to endure."
Having joined forces in 2019, all Athens Archery bows come equipped with Premium High Octane Strings from GAS Bowstrings (BCY 452X string material). All GAS Bowstrings and cables are pre-stretched using a proprietary Total Tensioning System to ensure zero string creep, peep rotation and serving separation - so your bow is ready for the hunt.
"If there's one thing we've learned in all of our travels, it's that a high-quality set of strings matter," said Shaun Thomson. "From the sub-20 terrain of Greenland hunting musk ox to the smoldering heat of Africa, we've put strings through the wringer and none have held their quality like GAS Bowstrings - we couldn't be more thankful for their partnership."
---