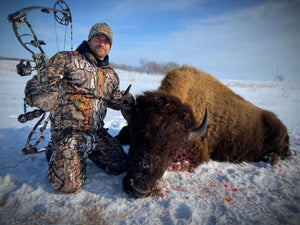 Bone Cold TV Joins Forces with Athens Archery
Bone Cold TV, a Western New York based destination hunting television show comprised of Brandon Scott, Chad Faulkner and Shaun Thomson, announces its partnership with Rochester, NY based compound bow manufacturer, Athens Archery.
"The prospect of teaming up with Bone Cold TV, harnessing their New York roots and world travels, along with their incredible experience as outdoorsmen and bowhunting - we simply couldn't be more thrilled to partner up," said Jim Klossner, CEO of Athens Archery. 
"We are confident the Bone Cold TV team will help Athens reach new markets and new levels across the globe, because they share our passion for the great outdoors," added Tracie Klossner, co-owner of Athens Archery.
Featured in Season 7 will be Athens' top of the line bows delivering more accuracy and more performance than ever before. Brandon, Shaun and Chad have each taken some of the worlds largest animals with their new Athens' bows on film, and will be a highlight for the Season 7 series to see how deadly the Athens bows really are.
"With several months behind our Athens equipment, and a host of destination hunts already under our belts putting them to the test, we can say with confidence that Season 7 will be one for the books," said Brandon Scott. "We're proud to partner with a family-owned New York based company with deep roots in the archery industry, and cannot wait to work together to showcase what these bows are capable of."
---